We are sure you share our grief over the circumstances of today with the COVID-19 virus outbreak. We would love to be seeing old friends and meeting new ones at the MSRWA trade show in Jackson and feel confident we will be doing that again soon,
In the meantime, thanks for stopping by our virtual trade show booth today. We are happy to introduce you to the our new products and promotions below that we were planning to launch at the show. Let us know what you think about them!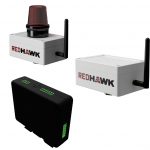 Finally! A low-cost solution for monitoring your wastewater operation.
Whether your wastewater system is a simple duplex operation, or you have more than two pumps, our new "Dollar A Day" program is the perfect solution to help you ensure you'll have no uninvited visits from the EPA. The Hawk SCADA "Dollar A Day" program offers:
Monitoring your lift station for as little as $1 per day
Low-entry hardware costs
Simple installation – less than 15 minutes by a qualified electrician
Perfect for duplex stations but expandable for larger applications
Internal battery to keep monitoring on when the power goes off
Available in internal and external units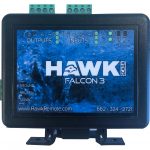 According to leading service providers, dry pairs and dedicated circuits will soon become a thing of the past as those lines are being repurposed for internet use. Coupled with their high cost, there's never been a better time to switch to the Falcon 3 — a more reliable and cost-effective solution.
The Falcon 3 is a compact, low-cost cellular solution for point-to-point connection. Installation is a snap — literally 15 minutes per site. A two-point installation can be up and running for less than $1,500, and that includes the first year data plan.
The Falcon is the perfect solution for tank-to-well communication with the simplest setup of two devices. Add two additional units ($750 each) and you're monitoring three remote wells. The possibilities are endless.
Still unsure? We're so confident that you'll love the reliability and ease of the Falcon 3 communication system that we're offering a 90-day money-back guarantee. Give us a call to talk about replacing your phone lines before the end of life of your current system leaves you silent. 
We always have a game two in our booth to promote fun and friendly competition. Our virtual booth experience is no different! Take a spin and try your luck at winning the prize below. See promotion terms & conditions at the bottom of this page.
25% off THESE 3 PRODUCTS: 
redhawk 3, falcon, informer 
PURCHASED & INVOICED APRIL 1-30, 2020
Chances of winning: 75%. Coupon redemption is limited to one per company, but you can play as many times as you want just for fun! To play again after your first spin, refresh this web page and hit the button below.
Socially distanced, but just a click away. Give us a shout with your questions or comments about our new products and promotions.
Promotion Disclaimer: Hawk Spin & Win promotion rewards winners with a 25% discount on the purchase of the following Hawk SCADA hardware: RedHawk 3, Informer, and Falcon. Promotion redemption is not eligible on service, data fees, or any other hardware such as RTUs. Discount is limited to a single purchase/invoice from April 1, 2020, through April 30, 2020. Discount good on any quantity of qualifying products listed above appearing on one invoice. Redemption is limited to one coupon per company during promotion period. Spin & Win is limited to employees or representatives from water/wastewater companies, municipalities, associations, or like organizations that would use the RedHawk 3, Informer, and/or Falcon hardware in an application within their organization. Third-party vendors are not eligible for coupon redemption but may play the game for fun. Hawk SCADA reserves the right to end or extend promotion without advance notification.